Landlord Law: Right-To-Rent Immigration Checks
This one is about the hot topic of immigration- it was bound to happen. The Government needs to look like it's doing something about the issue to restore faith in those wallowing around in upheave- so why not put some responsibility on landlords- because that makes sense? Right.
Needless to say, the kind of people they're trying to reassure is another issue altogether. Probably not people I'd dance with. But that's another story for another day.
Fortunately, on this very, very, very rare occasion (I can't emphasise that enough), this doesn't appear to be a legislation that targets landlords' pockets directly, and in-turn benefit our politicians' balance sheets. Even more surprisingly, this one doesn't actually seem like a totally terrible idea (comparative to previously introduced legislations, of course). It almost makes you think it's a misprint. However, there's still a lot to be desired about it, which makes it utterly believable.
Ok, so here's a quick overview of the legislation and what is required in order to comply…
What is the "right-to-rent" legislation?
From the 1st December 2014, UK landlords face fines if they rent homes to illegal immigrants without carrying out 'right to rent' checks.
Merry Christmas!
I quote, from the Gov website:
Under section 22 of the Immigration Act 2014 a landlord should not authorise an adult to occupy property as their only or main home under a residential tenancy agreement unless the adult is a British citizen, or EEA or Swiss national, or has a "right to rent" in the UK. Someone will have the "right to rent" in the UK provided they are present lawfully in accordance with immigration laws. Landlords who breach section 22 may be liable for a civil penalty.
In normal human talk, you'll just need to check your tenant's ID and proof of citizenship and ensure they have a right to rent in this country. Why didn't they just say so, right?
The issue has caused controversy within the industry over whether it is our responsibility to check the immigration status of potential tenants. I personally don't think it's a tall order to simply ask for proof of ID/Citizenship (that's basically what the legislation asks of landlords)- but it definitely shouldn't be a landlord's responsibility to keep taps on immigration and then being penalized for failing to do so.
Having said that, I don't think it's a hugely terrible legislation simply because it will help landlords perform better referencing (for those foolish landlords that don't already ask for ID), even though the motive for being forced to do it is completely unrelated. So let's just throw this one onto the shit-pile of landlord legal requirements that doesn't make total sense, but is marginally acceptable because it helps landlords in other ways and breaks the mold of NOT making landlords pay through the nose to comply with a completely ridiculous legislation. Ahem. Landlord licensing scheme.
Who does it apply to?
Initially, the legislation will apply to landlords letting property in Birmingham, Walsall, Sandwell, Dudley and Wolverhampton (why these areas? No idea), and then rolled out to the rest of the country during 2015. It's worth noting that this only applies to new tenancy agreements starting ON or AFTER 1st December 2014.
You can use this right-to-rent tool on the GOV website to check whether or not your property is affected by the legislation. Alternatively, you can call a helpline on 0300 069 9799.
What are the penalties for not complying?
If found to be in breach, landlords could face fines up to £3,000.
Ouch.
That said, it is important to note that the responsibility lies with the landlord- the person who authorises the occupation of accommodation by the occupier in return for the payment of rent. So if you're using a letting agent, I would ensure they're complying on your behalf- don't just take their word for it.
How do landlords comply with right-to-rent checks?
Landlords will need to check the identity and citizenship of ALL tenant's over 18, for example a passport. A full detailed list of what is accepted as proof is provided below.
Copies of the items used as evidence will need to be taken to prove that the checks have been carried out, dated by the landlord and must be kept for at least one year thereafter.
Personally, I've always checked my tenant's ID and taken a copy as a safety measure, just to ensure there's no fraudulent activity. I assume most with a little sense do the same. So this legislation won't really make me do anything I wasn't already doing.
What documentation will be accepted as proof of right-to-rent?
The documents that are considered acceptable for demonstrating right-to-rent in the UK are set out in two lists – List A and List B.
LIST A contains documents that prove the tenant has an indefinite right to be in the UK, while LIST B proves the the tenant only has a limited period.
List A
You are required to see either one document from group 1 OR any two documents from group 2.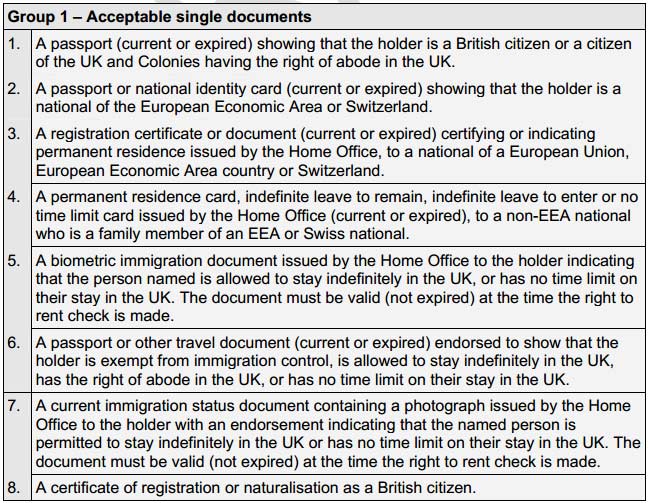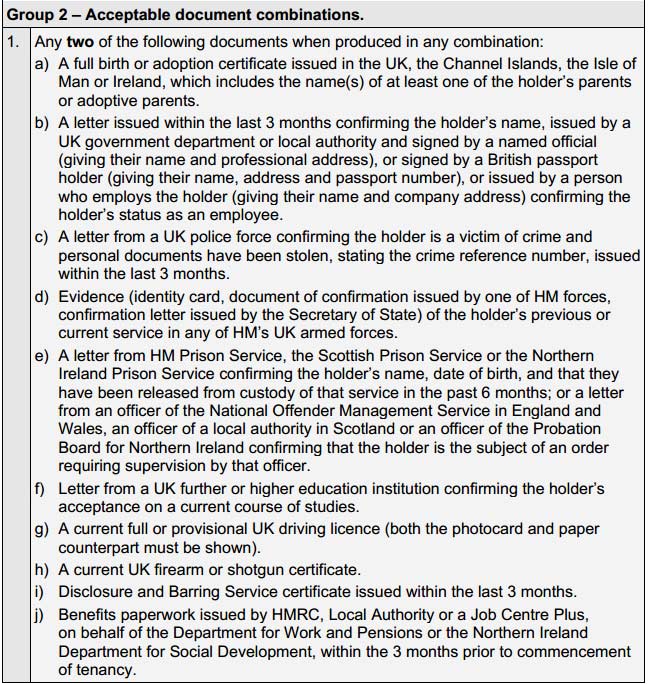 List B
All documents in List B must be valid (not expired) at the time of the right to rent check.
If presented with a document from this list, the landlord will need to carry out follow up checks within the following periods, to ensure the tenant is still permitted to rent in this country:
a) one year, beginning with the date on which the checks were last made, or
b) before the period of the person's leave to be in the UK, or
c) the period for which the person's evidence of their right to be in the UK expires.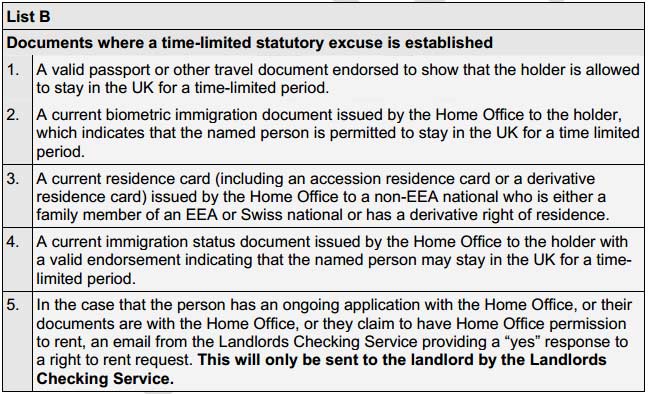 What happens if a tenant can't provide any documents from List B?
The landlord must request verification of a right to rent from the Home Office's Landlords Checking Service by completing the relevant online form.
… or you could just find a tenant that can provide the relevant documents.
I personally don't think it's worth jumping through hoops for someone that can't provide basic documentation to prove their identity and/or right to rent in this country. It would be extremely concerning if a tenant couldn't effortlessly produce those vital documents, right? But I'll leave that in your capable hands to decide. Perhaps the tenant is unbelievably hot, so you're prepared to walk the extra mile. Good for you; I'm certainly no stranger to thinking with my penis.
Needless to say, I don't even know what half those documents look like in a legitimate form. Are we also meant to check the authenticity of the documents we receive? Will unknowingly accepting fraudulent documents land us in shit? God knows. All I know is that I have no bloody idea what a genuine "A current immigration status document issued by the Home Office" looks like, nor do I wish to waste my precious time playing detective.
Now we're starting to see the gaping holes in this scheme. I suspect this new policy may force some landlords to choose tenants that have indefinite right to be in the UK and can rely on UK driving licenses and passports as proof of citizenship, just to avoid any uncertainties and complications, so the GOV might be shooting themselves in the foot with this brainchild. Dumbasses.
People are already able to convincingly fake documents to illegally enter the country- how do you think landlords will fare against that battle? Good thing most landlords are fully qualified forensic experts, otherwise this would be a totally bullshit idea.
For further details
I have only covered what I feel to be the most essential/applicable information to the average landlord/tenant scenario. There's a tonne more snooze-worthy details available from the GOV website that may apply to rarer and/or more convoluted situations.
Source: http://www.propertyinvestmentproject.co.uk/blog/right-rent-immigration-checks/